Conference USA Football teams will honor former C-USA commissioner Mike Slive and promote prostate cancer awareness in partnership with the Mike Slive Foundation by wearing custom helmet stickers this fall.
The Conference's Board of Directors voted earlier this summer to support the addition of the helmet stickers worn by the membership for the 2018 football season to recognize Slive's fundamental contributions to the conference.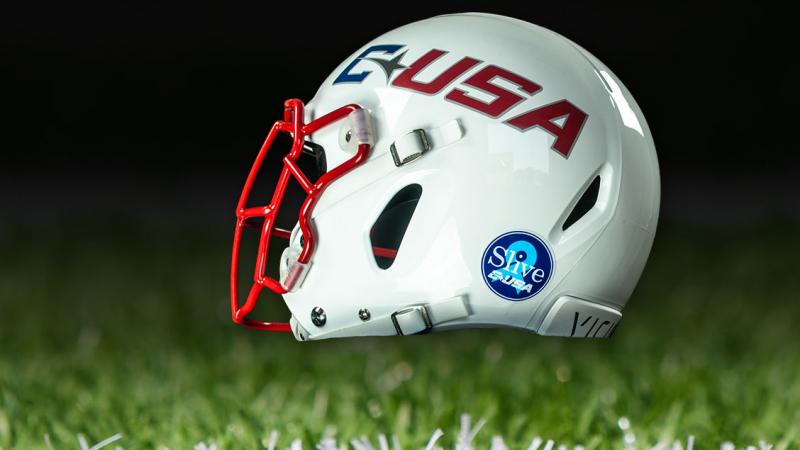 Slive, a respected and accomplished leader in college athletics, passed away in May at the age of 77. He was named the first Commissioner of Conference USA when the 12-team league was introduced on April 24, 1995. Under his direction, C-USA quickly emerged as one of the nation's top conferences. Slive served as the league's Commissioner until 2002, when he became Commissioner of the Southeastern Conference.
"My father would be honored by how Commissioner MacLeod and all the members of Conference USA have chosen to recognize him this fall. His legacy within intercollegiate athletics will be felt for many years to come, but I don't know if he ever realized that he will now leave another legacy – to help save lives by ending prostate cancer," said his daughter Anna Slive Harwood, President of the Mike Slive Foundation.
"When we launched the Mike Slive Foundation for Prostate Cancer Research last fall, we knew that we had a special opportunity to utilize the platform of athletics in the fight against prostate cancer. The numbers are sobering. A man dies of prostate cancer every 20 minutes. One in seven men will get prostate cancer in their lifetime. This is our chance to make a difference and be part of the end of prostate cancer. I'm doing this for my father. He was doing this for each of us. He used to say he was doing this so none of us would ever have to go through what he went through," Slive Harwood said.
The Mike Slive Foundation endeavors to become a global leader in the fight to eradicate prostate cancer through public awareness and research funding in memory of Mike Slive, a transformative leader whose vision and direction revolutionized the business of collegiate sports.
About the Mike Slive Foundation
The Mike Slive Foundation for Prostate Cancer Research was founded in Birmingham, Alabama, by attorney Ed Meyerson and former SEC and Conference USA Commissioner Mike Slive. Composed of local business, medical and political leaders, the Foundation's mission is to save lives by funding cutting-edge research and by raising awareness of prostate cancer. The Mike Slive Foundation is a new weapon in the fight against prostate cancer. Follow us on Twitter, Facebook and Instagram @MikeSliveFdn.
Heather Jeffcoat
Director of PR & Social Media
(205) 515-1972
heather@champbranding.com