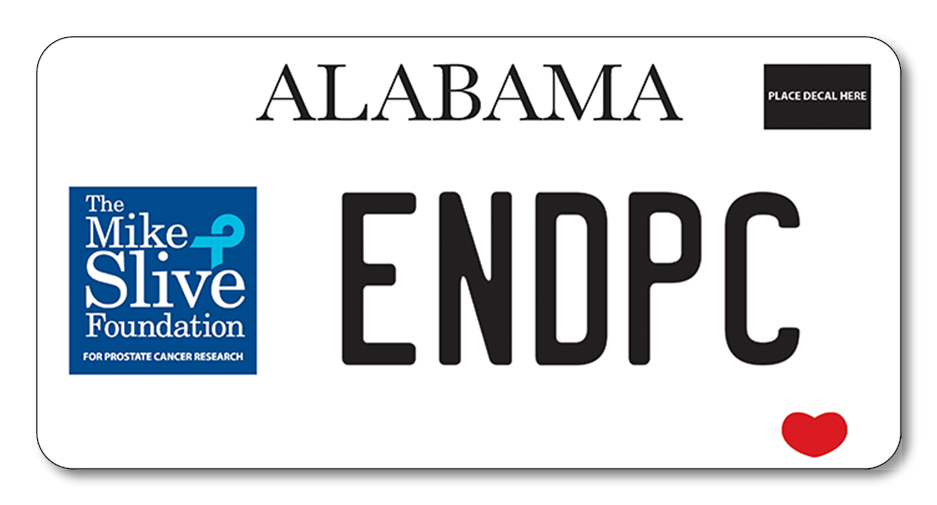 Let's get the Mike Slive Foundation for Prostate Cancer Research tag on cars statewide this year and begin the end of prostate cancer in Alabama.
What you need to know
Commit at the link below – $50 commitment, plus $5 initial tag fee per vehicle; $50 renewal per tag each year.
Personalize to show your support –  craft your personalized message at no extra charge or transfer your current personalized tag to a Mike Slive Foundation tag.
Fund the Foundation every year – $41.25 from each tag goes to the MSF to fund prostate cancer research.
Once we have reached 1,000 commitments you will receive an email from the Alabama Department of Revenue office. This email will be sent to the address you provide at the time of your pre-commitment purchase and will contain a receipt and a Commitment to Purchase Voucher. Please present this to the licensing office.
Every vehicle counts, so sign up for all of your vehicles at one time online.
Don't Want to Sign up Online?
You can pay by check and have the Mike Slive Foundation for Prostate Cancer Research sign you up. Please download the form below and follow the included instructions.
Questions?
We need 1,000 people signed up to get the tag into production.