You can help be the beginning of the end by becoming an Ally in the Fight.
Help fund more groundbreaking prostate cancer research in Alabama with your tax-free donation by filling out the simple and secure form below. The Mike Slive Foundation uses authorize.net to process and protect your online contributions.
Please complete the secure donation form below.
Thank you for your support.
I am making this gift in honor of someone:
Does your employer offer matching gifts?
The Mike Slive Foundation uses Authorize.net to manage all transactions and process all payments. All information you submit on this page is sent over a secure connection between your computer and their server. No personal data is stored on this site. Donations to The Mike Slive Foundation are tax deductible.
Let's get the Mike Slive Foundation for Prostate Cancer Research tag on cars statewide this year and begin the end of prostate cancer in Alabama.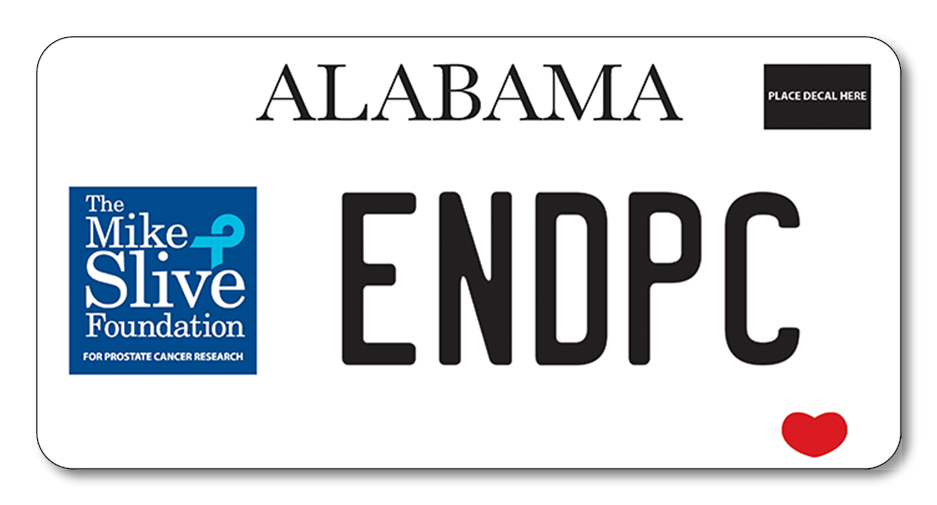 You can help us drive prostate cancer out of Alabama by committing to place the Mike Slive Foundation for Prostate Cancer Research specialty license plate on your vehicle. We need 1,000 pre-commitments for the state to put the plate into production.
What you need to know:
Commit at the link below – $50 commitment, plus $5 initial tag fee per vehicle; $50 renewal per tag each year.
Personalize to show your support –  craft your personalized message at no extra charge or  transfer your current personalized tag to a Mike Slive Foundation tag.
Fund the Foundation every year – $41.25 from each tag goes to the MSF to fund prostate cancer research.
Once we have reached 1,000 commitments you will receive an email from the Alabama Department of Revenue office. This email will be sent to the address you provide at the time of your pre-commitment purchase and will contain a receipt and a Commitment to Purchase Voucher. Please present this to the licensing office.
Questions? info@mikeslivefoundation.org
Every vehicle counts, so sign up all of your vehicles at one time online.
Don't Want to Signup Online?
You can pay by check and have the Mike Slive Foundation for Prostate Cancer Research sign you up. Please download the links below and follow the instructions.
Questions? info@mikeslivefoundation.org