BIRMINGHAM, ALABAMA – The Mike Slive Foundation is partnering with several universities across the country on their Block Cancer initiative to raise awareness about prostate cancer during the months of February and March. Prostate cancer affects one in eight men.
"We are excited to work with these universities' athletic programs to shine the spotlight on prostate cancer," said Anna Slive Harwood, Executive Director of the Mike Slive Foundation. "Using sports to help raise awareness of the importance of early detection in prostate cancer was my father's vision. He didn't want any other man to have to go through all he went through during his battle with this disease. If just one man leaves a Block Cancer basketball game more aware of his risk of prostate cancer, we have potentially saved a life."
During their designated Block Cancer games, the teams and coaching staff will wear Block Cancer apparel. Fans will see messaging and videos that focus on educating people about prostate cancer.
UAB kicked off the season with its Block Cancer game on January 26 against Louisiana Tech. Upcoming games include: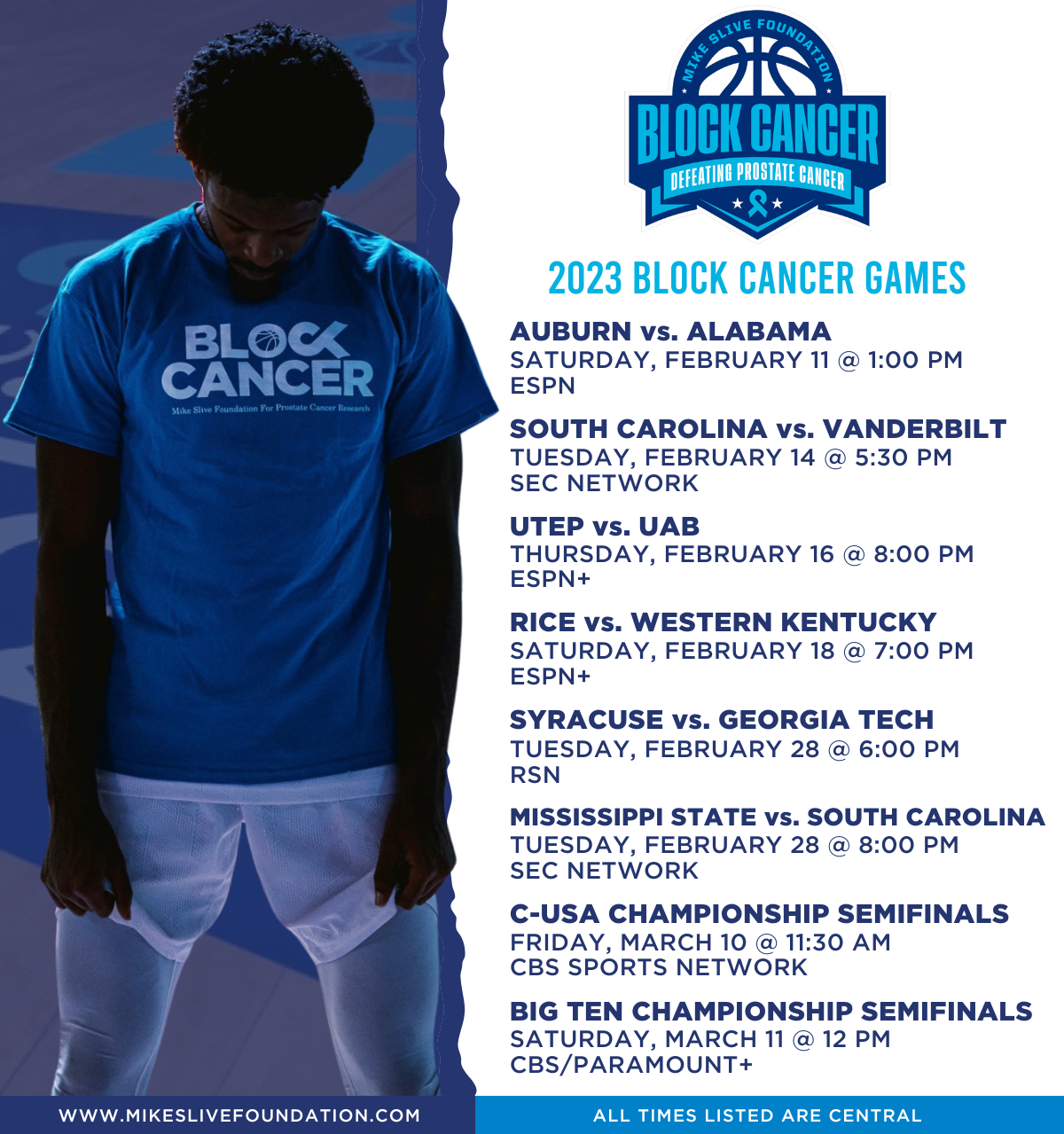 Additional games are pending and will be listed on the Mike Slive Foundation's social media and website as scheduled.
This Saturday's Auburn vs Alabama game is the Auburn's AUTLIVE Cancer game that the Bruce Pearl Family Foundation began to help bring awareness to all cancers. Coach Pearl has been a tremendous supporter of the Mike Slive Foundation since its inception. During Saturday's game, male fans ages 40 and over can participate in a free PSA blood test during the game provided by the Mike Slive Foundation and their partner Urology Centers of Alabama.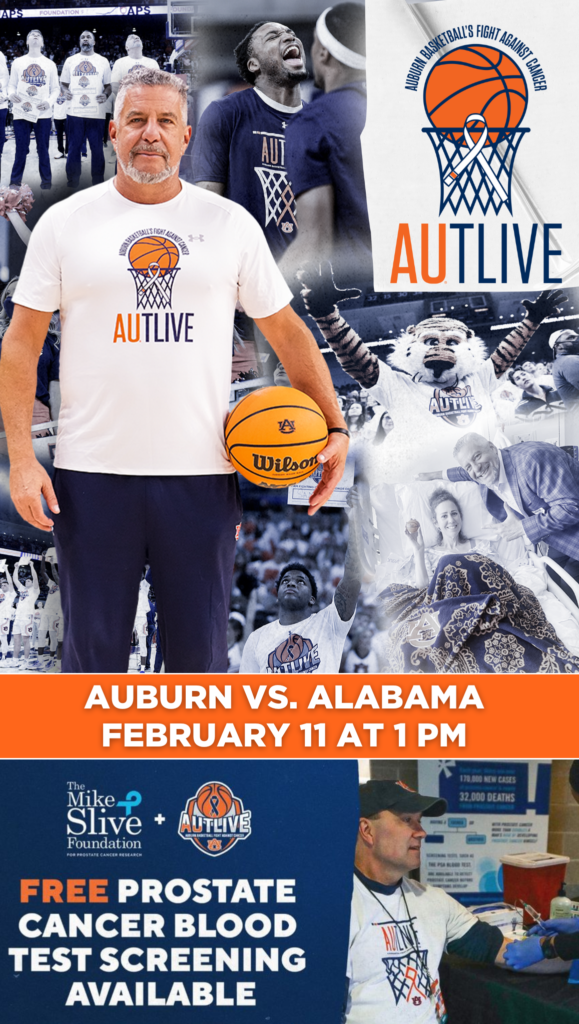 "Auburn basketball is excited to partner with the Mike Slive Foundation for our third year of offering free PSA blood screenings to men during our AUTLIVE Cancer game," said Auburn Head Men's Basketball Coach Bruce Pearl. "A man can come to the game, and we can literally help save his life."
One in eight men will be diagnosed with prostate cancer in their lifetime, and a man dies of prostate cancer every 15 minutes. Black men are more than twice as likely to be diagnosed with and die from prostate cancer. If a man has a direct relative (father, brother, grandfather) with prostate cancer, he is twice as likely to develop prostate cancer himself. Prostate cancer is the second leading cause of cancer death for men. When detected early, the five-year survival rate for men with prostate cancer is nearly 100%.
To learn more about the Mike Slive Foundation and their Block Cancer initiative, visit mikeslivefoundation.org. To interview a representative from the Mike Slive Foundation, contact Heather Jeffcoat at 205-515-1972 or by emailing heather@champbranding.com.
The Mike Slive Foundation endeavors to become a global leader in the fight to eradicate prostate cancer through public awareness and research funding in memory of Mike Slive, a transformative leader whose vision and direction revolutionized the business of collegiate sports.
About the Mike Slive Foundation
The Mike Slive Foundation for Prostate Cancer Research was founded in Birmingham, Alabama, by attorney Ed Meyerson and former SEC and Conference USA Commissioner Mike Slive. Composed of local business, medical and political leaders, the Foundation's mission is to save lives by funding cutting-edge research and by raising awareness of prostate cancer. The Mike Slive Foundation is a new weapon in the fight against prostate cancer. Follow us on Twitter, Facebook and Instagram @MikeSliveFdn.
Heather Jeffcoat
Director of PR & Social Media
(205) 515-1972
heather@champbranding.com