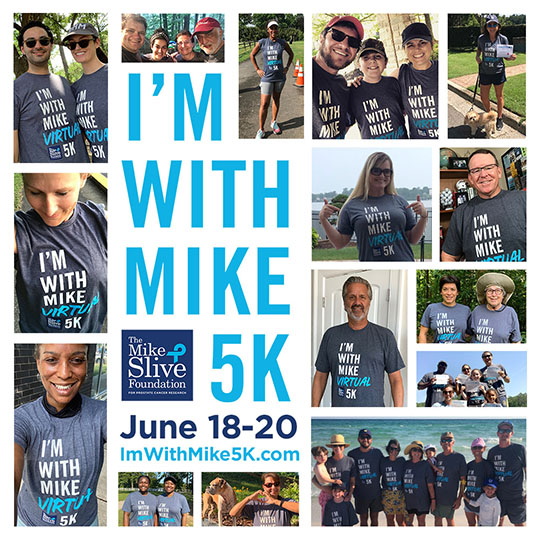 The Mike Slive Foundation's fifth annual I'm With Mike Prostate Cancer Awareness 5K run/1-mile walk is going virtual again this year. This Father's Day weekend, June 18-20, lace up your sneakers and join the Mike Slive Foundation in honoring prostate cancer survivors and all the men in your lives by raising money for prostate cancer research and awareness.
Last year was the first year the Foundation took the 5K run/1-mile walk virtual, and it proved to be a huge success, having participants in all 50 states. "Last year we adapted to the changing world and were still come together to support prostate cancer survivors and bring awareness to a cancer that affects one in eight men. We had over 600 participants representing all 50 states, and we hope to grow the race even more this year connecting survivors, supporters and their families with others across the country," said Anna Slive Harwood, Executive Director of the Mike Slive Foundation. "Just think how amazing it could be to have hundreds walking, running, cycling, and cheering across all 50 states again to support prostate cancer research and awareness!"
Register at ImWithMike5K.com by June 1 to guarantee your shirt and size selection. Registration is $35 ($30 for Prostate Cancer Survivors). The I'm With Mike shirt will be shipped directly to you so you can proudly wear it during your run or walk over Father's Day weekend. Your support goes towards the Mike Slive Foundation's mission of savings lives by funding cutting-edge research and raising awareness of prostate cancer.
The Foundation is asking that during your walk, run or ride that participants take a photo and tag the Foundation (@MikeSliveFdn) on Instagram, Facebook and Twitter, also using the #ImWithMike to show support.
Platinum partners of the I'm With Mike 5K include Burton Advertising, Kassouf & Co., Urology Centers of Alabama, Michael Vizzina/Design, Birmingham Business Journal and the O'Neal Comprehensive Cancer Center at UAB. Gold partners include UroGen Pharma, Buffalo Rock, Karl Storz-Endoskope, ARC Realty, Motion Industries, and Tech Birmingham.